Skip to products grid selection
Skip to search filter criterias
Skip to sort by
Girl's 2‑7 Have Fun First One-Piece Swimsuit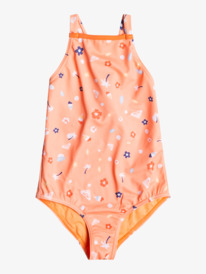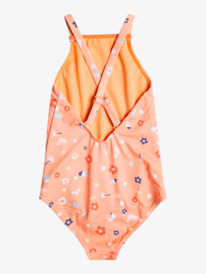 Girl's 2‑7 Have Fun First One-Piece Swimsuit
Extra 50% Off
Discount Applied in Cart
Toddler Swimwear & Boardshorts
Toddler swimsuits are great for swimming, and every day is a great day for a swim! As a brand with deep roots in surf culture, we spend a great deal of our time thinking about ways that we can improve everyone's experience in the water. Passions are developed at a young age, and we've designed our collection of toddler swimwear with the hope of helping toddler girls to develop a deep love for the sea. Our toddler swimsuits are designed to be comfortable and functional so that there are no distractions caused by discomfort. We believe toddlers should be able to feel free and uninhibited to explore all of the amazing opportunities a day at the beach has to offer, and each one of our toddler swimsuits aims to complement curiosity with comfort so that your toddler isn't held back from exploring anything of interest.
The Best Beach Days Start With ROXY Toddler Swimsuits
There are a few key things to think about when shopping for toddler swimwear. First, you want to make sure that you are buying toddler girl swimsuits that will protect your little one from the sun during their day at the beach. ROXY offers a range of sun safe swimwear for toddlers because we know the importance of keeping their sensitive skin safe. Our UV toddler swimwear styles are designed with UV protectant fabrics that shield from the sun's harmful rays and keep your toddler cool and protected as they play. Our attention to this type of detail is what sets ROXY toddler swimwear apart from other toddler girl swimwear. When you dress your toddler in ROXY, each toddler swimsuit comes with the satisfaction that your toddler is wearing the best swimwear available.
Our Toddler Swimwear Looks Good on You
If you're looking for cute toddler bathing suits, ROXY has just what you want! We are firm believers that every girl needs options, no matter how young she is. As a result, we've included a wide variety of styles of toddler bathingsuits into our toddler swimwear collection. Our toddler girl bathing suits come in a range of colors, patterns, and designs so that you can dress your toddler to represent her own budding sense of style. When it comes to cuts and styles, we have everything from toddler tankini swimwear to toddler girl bathing suits with shorts. Regardless of what style you choose, you can rest assured that the level of comfort and protection is consistent across all of our designs. We spare no details when it comes to our toddler swimsuits because we believe that young or old, everyone deserves to look their best in a bathing suit.
Get Ready to Buy the Best Toddler Swimwear from ROXY
Before you pack for your next big beach day, don't forget to visit ROXY's online store and shop our selection of styles of toddler swimwear. You can browse our full collection of toddler swimsuits in our online store, making it easy for you to buy the styles that you like the most for your little one without having to leave the house. Your toddler will be the best dressed babe at the beach in her new ROXY toddler bathing suit. If you have questions while shopping, our free customer service help line is available to provide you with the answers and information you are looking for via live chat, phone, or email.
Read more
Read less
Contact
1-800-435-9917

Specialists are available:
Monday-Friday from 6AM - 6PM PST
Excluding Saturday, Sunday and US Holidays.
FAQ
Get immediate answers to our most frequently asked questions.