Product Info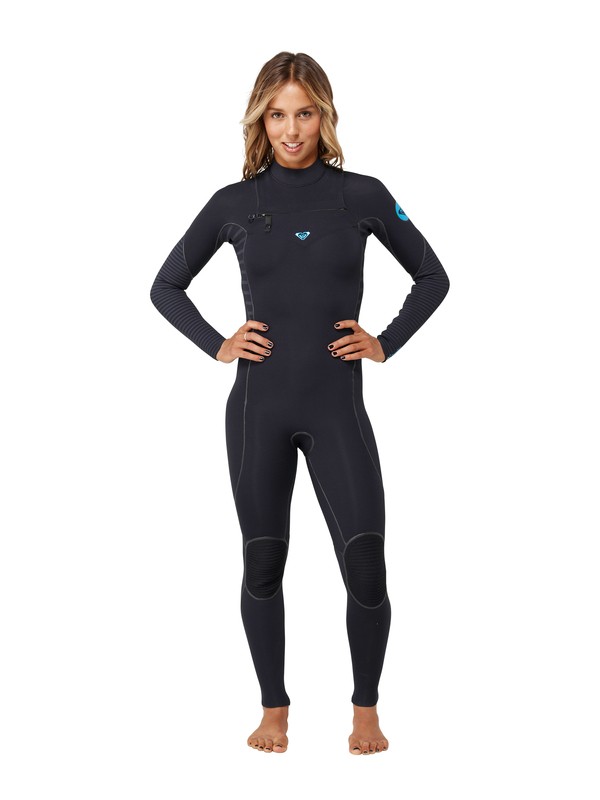 Ignite 4/3 Chest Zip Wetsuit
ARJW100010
Description
Ignite 4/3 Chest Zip Wetsuit
ARJW100010
FN Lite neoprene Hydrolock seam seal Beadlock wrist and ankle seals Mini YKK chest zip entryGlide skin neck seal Ecto flex knee pads
Specifications
Size Chart
Women's Wetsuits
| | | | | | | | |
| --- | --- | --- | --- | --- | --- | --- | --- |
| Size | HEIGHT | WEIGHT | CHEST | WAIST | HIPS | NECK | INSEAM |
| 2 | 5'3" - 5'5" | 100-120 | 30.5" - 32.5" | 32" - 34" | 34" - 36" | 11" | 27" - 28" |
| 4 | 5'4" - 5'6" | 105-125 | 31.5" - 33.5" | 24" - 26" | 34" - 36" | 11.5" | 27.5" - 28.5" |
| 6 | 5'5" - 5'7" | 110-130 | 32.5" - 34.5" | 25"- 27" | 35" - 37" | 12" | 28" - 29" |
| 6T | 5'6" - 5'8" | 115-135 | 32.5" - 34.5" | 25"- 27" | 35" - 37" | 12" | 28.5" - 29.5" |
| 8 | 5'6" - 5'8" | 120-140 | 34" - 36" | 26.5" - 28.5" | 36.5" - 38.5" | 12.5" | 28.5" - 29.5" |
| 8T | 5'7" - 5'9" | 125-145 | 34" - 36" | 26.5" - 28.5" | 36.5" - 38.5" | 12.5" | 29" - 30" |
| 10 | 5'7" - 5'9" | 130-150 | 35.5" - 37.5 | 28" - 30" | 38" - 40" | 13" | 29" - 30" |
| 10T | 5'8" - 5'10" | 135-155 | 35.5" - 37.5 | 28" - 30" | 38" - 40" | 13" | 29.5" - 30.5" |
| 12 | 5'8" - 5'10" | 140-160 | 37" - 39" | 29.5" - 31.5" | 39.5" - 41.5" | 13.5" | 29.5" - 30.5" |
| 12T | 5'9" - 5'11" | 150-170 | 37" - 39" | 29.5" - 31.5" | 39.5" - 41.5" | 13.5" | 30" -31" |
| 14 | 5'8" - 5'10" | 160-180 | 38.5" - 40.5" | 31" - 33" | 41" - 43" | 14" | 29.5" - 30.5" |
| 16 | 5'9" - 5'11" | 160-180 | 40" -42" | 32" - 34" | 42" - 44" | 14.5" | 29.5" - 30.5" |
Shipping & Returns
Shipping
Enjoy Free Shipping on all orders to the US and Canada!
Click here for our entire shipping policy and rates
Returns
Click here for our entire return policy
Share This Product
Add a Review
Easy OnOff
Lightweight
Supple
I swim/surf in the Pacific NW and was worried the lightweight and thin material would not be warm as it felt so thin-barely there. I was so wrong! The swim I had tonight was warmer than I had ever felt and I was able to move freely in the water swimming for over a half hour in 48 degree water. It's the best wetsuit I have ever owned. I hope you will always make this. Amazing material. It made all the difference and worth every penny. I will be surfing next. I bought a size 10 even though I am a 6/8 so believe that a little larger does not interfere with comfort or warmth or water seeping in. All water entryways are fit snug. A slightly larger fit also enables it to slip on more easily. Just my opinion.
I also wear a hood, boots and gloves, btw.
So happy to be comfy in the cold water.
Comment on this review