Product Info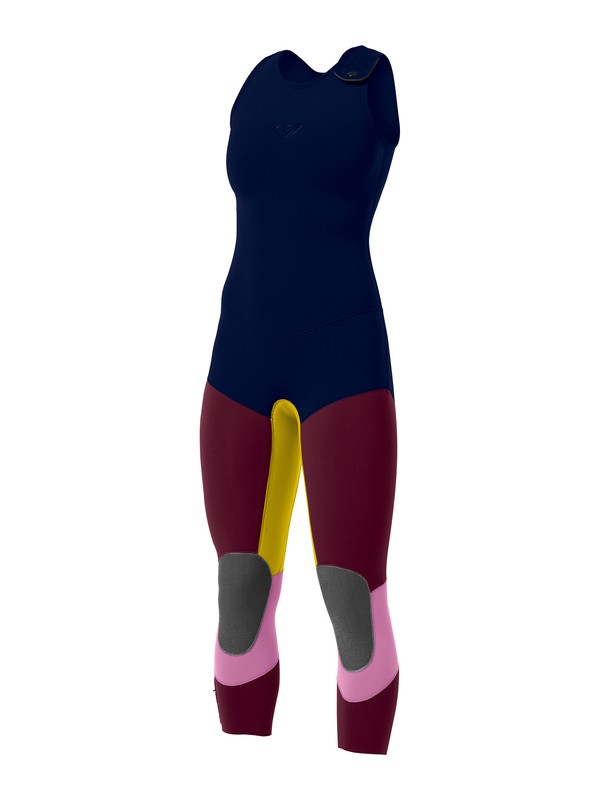 Kassia 3mm Long John Wetsuit
ARJW700000
Designed with love by Kassia Meador for all you fancy footwork fanatics.3mm FN Lite neoprene body IGBS Seams (Glued and Blind Stitched) IShoulder s trap with velcro and snap closure I3/4 leg cut design Imported
Description
Kassia 3mm Long John Wetsuit
ARJW700000
Specifications
Size Chart
Women's Wetsuits
| | | | | | | | |
| --- | --- | --- | --- | --- | --- | --- | --- |
| Size | HEIGHT | WEIGHT | CHEST | WAIST | HIPS | NECK | INSEAM |
| 2 | 5'3" - 5'5" | 100-120 | 30.5" - 32.5" | 32" - 34" | 34" - 36" | 11" | 27" - 28" |
| 4 | 5'4" - 5'6" | 105-125 | 31.5" - 33.5" | 24" - 26" | 34" - 36" | 11.5" | 27.5" - 28.5" |
| 6 | 5'5" - 5'7" | 110-130 | 32.5" - 34.5" | 25"- 27" | 35" - 37" | 12" | 28" - 29" |
| 6T | 5'6" - 5'8" | 115-135 | 32.5" - 34.5" | 25"- 27" | 35" - 37" | 12" | 28.5" - 29.5" |
| 8 | 5'6" - 5'8" | 120-140 | 34" - 36" | 26.5" - 28.5" | 36.5" - 38.5" | 12.5" | 28.5" - 29.5" |
| 8T | 5'7" - 5'9" | 125-145 | 34" - 36" | 26.5" - 28.5" | 36.5" - 38.5" | 12.5" | 29" - 30" |
| 10 | 5'7" - 5'9" | 130-150 | 35.5" - 37.5 | 28" - 30" | 38" - 40" | 13" | 29" - 30" |
| 10T | 5'8" - 5'10" | 135-155 | 35.5" - 37.5 | 28" - 30" | 38" - 40" | 13" | 29.5" - 30.5" |
| 12 | 5'8" - 5'10" | 140-160 | 37" - 39" | 29.5" - 31.5" | 39.5" - 41.5" | 13.5" | 29.5" - 30.5" |
| 12T | 5'9" - 5'11" | 150-170 | 37" - 39" | 29.5" - 31.5" | 39.5" - 41.5" | 13.5" | 30" -31" |
| 14 | 5'8" - 5'10" | 160-180 | 38.5" - 40.5" | 31" - 33" | 41" - 43" | 14" | 29.5" - 30.5" |
| 16 | 5'9" - 5'11" | 160-180 | 40" -42" | 32" - 34" | 42" - 44" | 14.5" | 29.5" - 30.5" |
Shipping & Returns
Shipping
Enjoy Free Shipping on all orders to the US and Canada!
Click here for our entire shipping policy and rates
Returns
Click here for our entire return policy
Share This Product
Add a Review
Comments about roxy Kassia 3mm Long John Wetsuit:
I wore this suit for a week of three dives a day. It was great in the beginning, but towards the of the week I noticed that some of the seams were rubbing, and the velcro that holds the shoulder on pulls at the wet suit material and gets stuck to it sometimes. Otherwise it was a great suit! I have this suit in the bright yellow version, but I tried on the grey/blue/pink and it was still nice looking.
Comment on this review
Adorable
Great Colors
Great Thickness
Seam Tape Peeling Off
Suit Fills Up With Water
Water Collects At Ankles
Comments about roxy Kassia 3mm Long John Wetsuit:
This suit was adorable. great colors and looks super cute on. I was trying to surf in it. I'm just learning so I fall quite a bit. Every time I fell off the board the suit would fill with water and all gather around my ankles. And the suit wasn't too big and fit snug. Body surfing was so much worse. I was literally carrying around 5 pounds on each ankle. If I was just using this to swim, I probably would keep it. Not practical.
Comment on this review