Product Info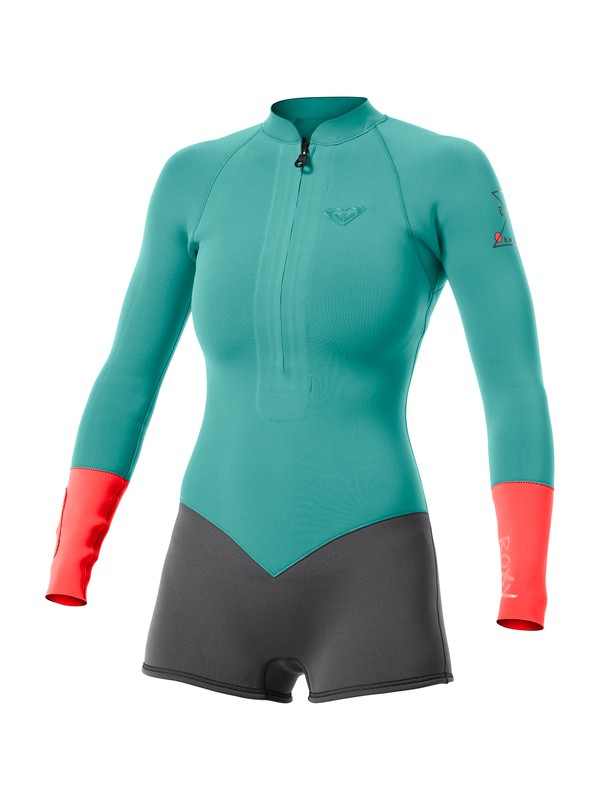 Kassia 2mm Front Zip Springsuit
ARJW400002
Description
Kassia 2mm Front Zip Springsuit
ARJW400002
Designed with love by Kassia Meador for all you fancy footwork fanatics, 2mm FN Lite neoprene body, GBS Seams (Glued and Blind Stitched), YKK Front Zip, Imported
Specifications
Size Chart
Women's Wetsuits
| | | | | | | | |
| --- | --- | --- | --- | --- | --- | --- | --- |
| Size | HEIGHT | WEIGHT | CHEST | WAIST | HIPS | NECK | INSEAM |
| 2 | 5'3" - 5'5" | 100-120 | 30.5" - 32.5" | 32" - 34" | 34" - 36" | 11" | 27" - 28" |
| 4 | 5'4" - 5'6" | 105-125 | 31.5" - 33.5" | 24" - 26" | 34" - 36" | 11.5" | 27.5" - 28.5" |
| 6 | 5'5" - 5'7" | 110-130 | 32.5" - 34.5" | 25"- 27" | 35" - 37" | 12" | 28" - 29" |
| 6T | 5'6" - 5'8" | 115-135 | 32.5" - 34.5" | 25"- 27" | 35" - 37" | 12" | 28.5" - 29.5" |
| 8 | 5'6" - 5'8" | 120-140 | 34" - 36" | 26.5" - 28.5" | 36.5" - 38.5" | 12.5" | 28.5" - 29.5" |
| 8T | 5'7" - 5'9" | 125-145 | 34" - 36" | 26.5" - 28.5" | 36.5" - 38.5" | 12.5" | 29" - 30" |
| 10 | 5'7" - 5'9" | 130-150 | 35.5" - 37.5 | 28" - 30" | 38" - 40" | 13" | 29" - 30" |
| 10T | 5'8" - 5'10" | 135-155 | 35.5" - 37.5 | 28" - 30" | 38" - 40" | 13" | 29.5" - 30.5" |
| 12 | 5'8" - 5'10" | 140-160 | 37" - 39" | 29.5" - 31.5" | 39.5" - 41.5" | 13.5" | 29.5" - 30.5" |
| 12T | 5'9" - 5'11" | 150-170 | 37" - 39" | 29.5" - 31.5" | 39.5" - 41.5" | 13.5" | 30" -31" |
| 14 | 5'8" - 5'10" | 160-180 | 38.5" - 40.5" | 31" - 33" | 41" - 43" | 14" | 29.5" - 30.5" |
| 16 | 5'9" - 5'11" | 160-180 | 40" -42" | 32" - 34" | 42" - 44" | 14.5" | 29.5" - 30.5" |
Shipping & Returns
Shipping
Enjoy Free Shipping on all orders to the US and Canada!
Click here for our entire shipping policy and rates
Returns
Click here for our entire return policy
Share This Product
Add a Review
Love this wetsuit, fit me well, true to size, love the colour, flattering my figure. Will buy another one in another colour when on sale.
Comment on this review
I purchased this for my 70 year old mother in law as she gets cold in the pool. I have one in a different colour and thought it would be perfect as it would keep her warm and be easy to get into and out of. I chose the red/yellow/purple as it seemed like a more sophisticated colour palette for a mature woman. In real life, the red part is fuschia and the yellow is bright neon yellow. I hope she'll still wear it but I do not like the teeny-bopper style colours.
Comment on this review
Love wearing the suit in our ingrates pool!wish it went above knee too and hope roxy can look into that
Comment on this review
Colorful
Dries Fast
Flexible
Functional
Wind Protectant
I use this product only for surfing in the summer time. The 2mm is great because it blocks the wind when sitting and waiting for sets. Keeps me relatively warm (about 2 hours worth of surfing in 65º water) for early morning sessions while still looking cute.

I also tend to meet up with a lot of my friends at the beach. So when already in the water the fun bright colors let my friends easily pick me out from the beach. I love standing out in the crowd and have people ask where I've gotten my suit cute! :)

This suit is very flattering and the legs are shorts which provide just enough cover up for your behind. Super flexible, drys pretty fast (if hung up), and the colors are fun + vibrant!
Comment on this review
Attractive
Comfortable
Cute
Looks great on
Strechy
True fit
65-75 Degree Water Temps
Water sports
I absolutely love this wetsuit. It is perfect for surfing, snorkeling, and any other water sports. The suit is very flexable and attractive looking when you are wearing it. I love the colors! Way better than boring black. I wear this suit when the water is a bit chilly 65-70 degrees, but the sun is out! Or when the water is a little warmer (75 degrees) but it is windy and cloudy. Keeps me very warm. The only downside to this suit is that it is delicate. Be careful when putting it on and taking it off, I ripped the seam the first wear because my arm was wet when I was putting it on. Otherwise, a great buy!
Comment on this review
Swim daily in Gulf of Mexico off Florida barrier island. Great weight for winter water ... great sunscreen for spring summer
Comment on this review
breathable
Comfortable
Stretchy
Warm
I just bought this wetsuit last week and I am already in love! Not only are the color combinations fabulous, but it fits extremely well and is extremely stretchy, perfect for all sorts of water sports and activities! I just moved to California from Hawaii, and the water isn't extremely cold here, but I needed some sort of wetsuit. I suggest this suit for anyone looking for a little warmth when the weather starts to cool again at the end of summer and fall.
Comment on this review